Stilt homes are growing in popularity, and it's easy to see why—besides spectacular views, stilt homes offer comfort, convenience, durability, and style—all at an affordable price. If you're wondering if a stilt home is for you, here are a few things you should know.
Stilt Homes are ideal for waterfront living
A stilt home lets you enjoy life on water's edge while staying high and dry during storm season—your home is built to endure Florida's toughest weather. And stilt homes naturally complement a waterfront lifestyle—not only can you enjoy a panoramic view of the water while in your home, the covered space under your home offers plenty of room for boat and trailer storage.
Stilt homes in Florida are built to the same stringent standards as site-built homes—they're designed and constructed to withstand winds up to 160 miles an hour. Every step of a stilt home's construction is done with durability and safety in mind—from geotechnical inspections to determine the right foundation for the site to solid concrete stilt columns reinforced with steel rebar.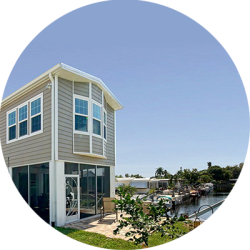 You get twice the space at half the price
Every stilt home comes with a bonus—a second home's worth of usable space underneath the home.  This open area—which comes with a finished concrete floor—makes a great spot for protected outdoor entertaining or dining. Or, if you need extra space for a studio, workshop, or storing valuables, you can opt to close in this area for even more indoor space.
Stilt homes are built with the same care and to the same standards as site-built homes—but can be completed in half the time. When you choose a stilt home, you can go from contract to move-in in as little as six months or eight months. With decades of experience installing stilt homes and foundations, LeeCorp has a proven system in place to ensure efficient, timely completion.
Your home is unique to you
Stilt homes don't all look alike—when you build a stilt home with LeeCorp, you get a wide range of options that let you make your home truly your own—from a choice of countertops and cabinets to exterior options such as decks, driveways, matching storage structures, and more.
When you partner with LeeCorp Homes for your stilt home, you get the peace of mind of knowing the job will be done right and to your specifications. LeeCorp has decades of experience constructing stilt home foundations and installing stilt homes in a variety of settings, so you can feel confident your home will be built to last.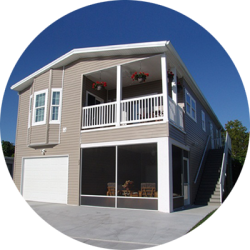 10 STEPS
to Your Custom-Designed Home!
10 STEPS
to Your Custom-Designed Home!
Contact Us About Your Project!
Let us help you design your custom Stilt Home.